2024 Legacy Tour of the D-Day Squadron, 2019 Documentary Film Available on DVD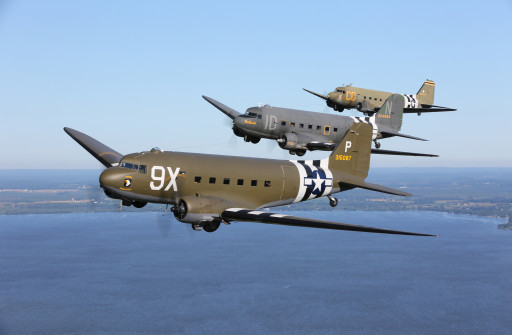 D-Day Squadron at EAA AirVenture 2022
Photo by Xavier Meal: D-Day Squadron at EAA AirVenture 2022
OXFORD, Conn. - November 11, 2022 - (
Newswire.com
)
Commemorating this year's Veteran's Day, a special salute to those who served, sacrificed, and gave so much to this great nation, the D-Day Squadron shares the theme of its upcoming return to Europe in 2024: 2024 Legacy Tour. The timing of this announcement comes as both the D-Day Squadron and Sound Off Films share the release of the 2019 documentary film, "Into Flight Once More" now available on DVD and Blu-Ray for purchase.
The D-Day Squadron announced at this year's EAA AirVenture in late July a plan to return to Europe in 2024 for the 80th anniversary of D-Day in France and the 75th anniversary of the Berlin Airlift in Germany. In 2019, the D-Day Squadron took a fleet of 15 WWII-era DC-3s to England, France, and Germany. Following the 2019 successful mission, the D-Day Squadron has continued to be present at multiple flyovers, aviation events, and warbird-themed airshows.
"In 2019, our focus was to remind people how World War II veterans more than 75 years ago fought for our freedom, liberties, and served, where many lost their lives so we may live," shares Eric Zipkin, the missions' chief pilot and director of operations. "In 2024, with so few World War II veterans with us, we will recreate the journey to Europe and fly each commemoration to protect their 'Legacy,' to never forget what these veterans meant to each of us, and our world history." 
The picturesque and patriotic documentary from the D-Day Squadron's 2019 mission is directed and produced by Emmy nominee Adrienne Hall in her feature documentary directorial debut, and proudly narrated by Academy Award ® nominee and veterans' advocate Gary Sinise (1995 Best Actor in a Supporting Role). Now finally available in Blu-ray and DVD formats, it is a wonderful memento for all our veterans and everyone who admires them and their heroic exploits and is also available on all major retail streaming platforms. 
Planning for the mission is already underway. A volunteer committee of seasoned professionals is being established to help organize and manage logistics in support of another remarkable mission to honor, pay tribute, and commemorate World War II veterans.
The D-Day Squadron is currently working with corporate and individual partners, donors, and support to bring this mission airborne. Those wishing to participate, if not already, are asked to contact the D-Day Squadron's executive director, Lyndse Costabile, at: [email protected] 
Additional DC-3 operators wishing to get involved are asked to complete this Google Form: Join Us: 2024 Legacy Tour of the D-Day Squadron
For more information from the D-Day Squadron: DDaySquadron.org
To purchase a Blue-Ray DVD: Into Flight Once More DVD
To purchase a DVD: Into Flight Once More
Contact Information:
Lyndse Costabile
Global Media Relations
[email protected]
904-404-9192
Related Files
2024.png
D-DAY-SQUADRON-2024-2.jpg
Press Release Service by
Newswire.com
Original Source:
D-Day Squadron Announces 2024 Europe Mission Theme and Film DVD Release