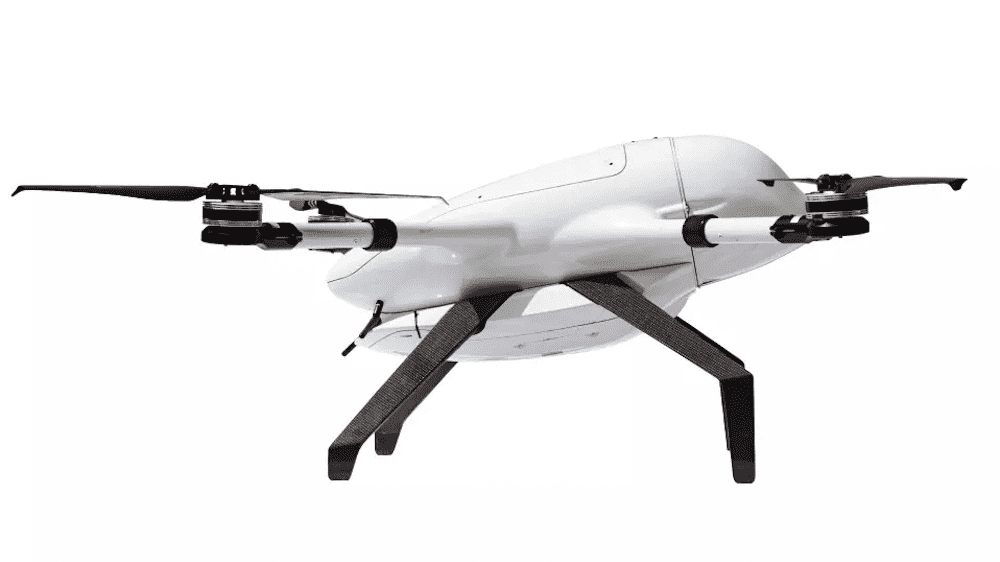 EuroLink Systems is developing distinct versions of the Beluga family of NATO-class mini drones, focused on mission profiles including pharmaceutical material transport, surveillance, environmental monitoring and precision farming. With acceptance of Beluga within the European Market, EuroLink now plans to bring the family of mini-drones to the North American target segment.
The company will be attending the AUVSI XPONENTIAL 2022 event 25-28 April at booth #2146 to unveil the Beluga drone platform to the US market.
Beluga has been in development for three years and has passed stringent TRL7 & TRL8 project requirements meeting demanding performance metrics. It is classified as a Nano Mini Drone that can fly fast with max speed up to 69 mph, for up to 60 minutes with 3.3 lbs. payload.
It is designed to satisfy a high complexity range of applications, from civil to military. These include: 
C4ISR
Search and rescue
3D terrain mapping
Critical cargo transport
Last mile delivery
Troop and evacuation support monitoring
Threat detection/monitoring, 
Situation analysis
Suspicious behavior monitoring
Urban logistics support applications 
Blood, plasma and urgent medicine transportation
The Beluga drone can be equipped with an Artificial Intelligence (AI) Processor Unit on board, which extends its applications range and diversity.
Beluga can carry different payloads, gimbals and sensor suites, from Cargo Bay (2.5 lt or 14 lt optional), LiDAR; Daylight/IR; Multispectral; Hyperspectral; RF Catcher; Gas/NBCR Detector to different EO and EO/IR options. This reinforces the platform's range of capabilities and configurability depending on the target, end-use application.
The datalink range is variable depending on the configuration – from 12 to 24 miles RLOS, operating on 2.402 – 2.478 GHz frequencies – or this can be customized. Beluga also supports 4G/5G and satellite communications and civil or military transponders. 
The on-board equipment provides a certified GPS/SBAS, Tested to DO-160G, TSO-C145e, DO-178C, DO-254 Level C and MAVLink to NMEA protocols. 
Beluga is designed to fly in harsh weather conditions, from -25°C to +55° operating temperature range and can be set for an IP67-compliant configuration. It can also meet 24 mps wind resistance.
With its shape inspired by the Beluga mammal, the bio-inspired drone design process allows the Beluga UAV to fly with the maximum aerodynamic and hydrodynamic peak performance to deliver the best Size, Weight, Power and Cost (SWaP-C) value.
Significant attention has been placed on economic sustainability, low noise and safety in the platform's development, which allows it to fly within urban spaces – consistent with regulations in both North America and European markets.
A collaboration between the EuroLink Systems team and Italian University UniCusano led to the development of custom blades/propellers, which are bio-inspired by a nocturnal owl, able to fly silently by its unique plumage. This reduces noise impact by over 5db in the audible cone of irradiation top/down and allows Beluga to highlight a 'Silent Drone' capability, which is critical to specific target applications.
Logistic, environmental, and economic sustainability are mainly related to the development of suitable fixed stations (placed on the roof of buildings, for example) for electric charging of Unmanned Aerial Vehicles (UAVs), maintenance services (full 24/7 cycle) and silent propellers to minimize noise and disruption within urban environments. 
To adhere to safety and anticipated regulations, Beluga integrates a unique transponder to provide comprehensive, situational awareness to the urban space ATC service providers or remote pilot when Beluga flies outside designated urban space.
The Beluga design will also incorporate the Architectural Modularity Concept (AMC): the capability to adapt payload and specific components according to the operating scenario. For example, Desert Kit allows Beluga to operate in high temperature/harsh environments and/or, the availability of a Modular Stack for Embedded Boards, which extends itself to different integrated solutions (hardware and software) suitable for a wide range of mission profiles. This reinforces Beluga's versatility and configurability.
"The Beluga family of mini-drones is an extension of the range of technologies that EuroLink has mastered over several decades – integrated into this versatile drone platform," said Pietro Lapiana, President and Founder of EuroLink Systems. "It was developed from a user and applications perspective and designed to be one of the most configurable and composable UAVs available within the market segments that it serves. Our alignment with a range of Industry experienced and competent Partners – generates confidence that Beluga will find its way into the North American Market."
EuroLink is now seeking Strategic Alliance Partners that can extend its distribution capability and provide needed manufacturing, logistics and support services to serve the North American market.
This story republished from https://www.unmannedsystemstechnology.com/2022/04/eurolink-targets-us-market-with-beluga-family-of-mini-drones/
The post EuroLink Targets US Market with Beluga Family of Mini-Drones  first appeared on Social Gov.