This January, a Ford Hall Forum panel convened by Suffolk University in Boston solicited input from leaders at different points in the U.S. food supply chain and heard familiar laments: reliability has all but disappeared, costs are sky high and product can sometimes be almost impossible to acquire when needed at almost any price.
Fully reassembling the supply chain can provide greater certainty by making sure more agricultural products survive pests and actually get to market. The need for this is striking. "Insect pests are known to cause catastrophe and drastic reduction in food grain production across the globe. The losses that have been predicted by FAO [Food and Agriculture Organization of the United Nations] is over 37% due to pests and diseases," according to the December 2021 paper "Drones in Insect Pest Management," authored by researchers in the South Indian state of Tamil Nadu.
As the paper noted when published in Frontiers in Agronomy, "…effective and timely spraying of plant protection measures are very important. For this, miniaturized unmanned aerial vehicles possess a wide array of benefits that include high efficiency, reduced labor requirement, saving of time and energy, quick response time and vast area coverage, as well as environmental safety."
Drones and sensors can play a vital role in protecting food at a time when a growing human population needs it.
INVASIVE CREATURES, GREAT AND SMALL
UAVs have been employed to detect damage done to crops by psyllids, the tiny insects that suck plant juices and ultimately damage or destroy millions of dollars' worth of food each year. With timely warning, farmers can take appropriate action, and suppliers and buyers further up the supply chain have an early indication when there are problems.
A research study by Fundecitrus, a Brazil-based organization for citrus sustainabilty, deployed drones carrying spray tanks to reduce adult insects by 80%. The study cited drones' value in reaching hard-to-access sites and responding to emergencies. "In addition," AgroPages magazine reported, "the drone requires less investment and infrastructure than an aircraft, as it does not need an airstrip, benefiting small and medium-sized citrus growers. It also helps the environment, as there is no fossil fuel burning."
Moving to mammals, rats are the most prevalent vertebrate menace to crops and animals. While not directly food-related, a 2019 drone project on two remote islands in the Galapagos represents "the first time such an approach has been used on vertebrates in the wild," according to Nature magazine.
Two species of rats had repopulated the islands, feeding on bird eggs and nestlings and also plant life. Despite initial mechanical difficulties, drones proved promising because they were much easier to use than manned aircraft when applications had to be 21 days apart, and because they erased the need to cut trails through rugged terrain.
At the other end of the size spectrum, Tanzanian rangers and researchers have used UAVs to protect both much-needed crops and hungry, habitat-deprived or migrating elephants. As far back as 2011, conservation magazine Mongabay reported, the buzz from AR Parrot drones made elephants flee, thereby avoiding what are known as "HEC"—human-elephant conflicts—at a time when elephant populations are dropping sharply. Drone deployments followed. Additionally, rangers were trained to spray chili pepper, which also dispersed the pachyderms.
Last fall, another series of drone flights helped researchers at South Africa's Stellenbosch University establish protocols for flying near elephants without panicking them.
SENSING TROUBLE
Simply "bombing" an infestation blunts the potential of what drones can offer. Precise droplet deposition, thermal and infrared imaging are important techniques. For example, a Chinese study on rice infestation, cited in the Indian paper, posited parameters: optimal flying height (3 m), speed (5m s−1), swath (4 m) and the area coverage (4 min acre−1). But different-sized plots require different strategies lest pests simply move over to un- or not-yet-treated areas.
Consequently, the right sensors are key to combatting infestations.
In parts of Asia, where high-value tea crops are often grown in remote and rugged terrain difficult for humans to access, a combination of "internet of things" (IoT) sensors on the ground and drones in the air are gathering data that can be used to zero in on specific threats to crops.
SunlightTM, a developer of virtualization technology based in Cambridge, in the UK, and in Heraklion, Crete, has helped a Southeast Asian client gather data via drones across its portfolio of 60 remote tea harvesting plantations. Drones achieving longer range and loiter times and more capable sensors have aided this effort.
With a focus on specific orchard niches, UK-based Outfield Technologies offers an example of the evolutionary direction ahead for the agricultural market.
Oli Hilbourne, co-founder of the company and its director of operations, said that despite coming from an aerospace background himself, the company avoided the temptation to create its own flight system and instead built proprietary capabilities on top of commercial-off-the-shelf UAV technology.
Outfield, he added, is a crop monitoring system that leverages drones. "We are trying to give famers an exact look, a clear, detailed picture, of how the crop is performing in real time—it's about fast, responsive data that covers a range of subjects," he explained. Those subjects include soil, weather, and the state of irrigation systems—and pest detection. In terms of its specific niche, Outfield is focused mostly on orchards: anything grown in the canopy of trees, or on vines or bushes.
The attraction of that market for Outfield is that fruits are high-value crops. "Fruit is an expensive thing and it isn't a crop that rotates; an orchard might be in the same crop for 12-15 years, or more," he noted. Furthermore, it is a situation where if you improve the trees this year, it will help the crop next year.
For Outfield, the center of the target businesswise has been the temperate zone and apples, a concentrated monoculture with specific needs. Hilbourne said apple production may have somewhat less pest pressure than other crops, but success still depends on having "really good information." For instance, he noted, Outfield determines tree health by measuring tree and canopy size and mapping blossom density. Then, "there are specific things we look at with the help of drones such as the coloration and size of apples," he said. These factors can provide strong evidence of pests or fungal issues.
"We can map across an orchard in a matter of minutes. If we detect an area of the orchard where the trees are particularly small, this often indicates a problem affecting those trees," Hilbourne said. It may be an issue with soil, micronutrients, or pest and disease pressure, and Outfield can identify those areas that the grower and their agronomist need to investigate in more detail.
"The way I describe it is that your agronomist is the one who ultimately diagnoses the trees but if we can scan 100 acres and tell you where you have problems, you can deploy the agronomist more effectively," he said.
DATA VS. PESTS
Ultimately, it's all about data, said Romeo Durscher, VP at Auterion, in Moorpark, California, which provides open-source-based software-defined drones, payloads and third-party applications to a variety of markets, including agriculture.
Durscher dated the use of drones in agriculture back to the early days of consumer and enterprise drones, around 2013 or 2014. They proved their ability to improve and optimize yield, monitor crop growth, perform soil assessments and even help with spot crop spraying.
But in those early days, he noted, drones relied on consumer RGB cameras of the "everyday point-and-shoot" variety. Farmers would fly their drones with those cameras on them, point the camera toward their fields and crops, and take pictures. Through that process, they would get an aerial view of their crop and look for patterns hinting at such issues as irrigation problems, soil variation, and even pest and fungal infestations that are often not as apparent at eye level.
Multispectral images, combining data from infrared as well as visual spectrum, came along next, offering additional "data" that could not be seen by the human eye in the air or on the ground.
Durscher argues that there has been a paradigm shift from simple UAVs to integrated UAS. "In the last two years we have reached a crucial point in the drone industry; we have finally accepted that it's no longer about the hardware, but about the data," he added. "The present and the future are around connected fleets, integrated data workflow, machine vision and AI, and creating and acting on actionable data."
Consequently, real impact today comes from spotting and delivering what Dursher calls "actionable data."
"A farmer is an expert in farming operations, but they are not experts in analyzing data sets and forming a conclusion and a plan of attack from that data. Providing the farmer with the data, the analysis of the data and the recommended next steps, including the identification and where these steps should take place— that's a key element in continuing to scale up the operation of uncrewed vehicles in this vertical."
Similarly, Durscher said, if the aerial inspection finds a troubled isolated spot in the field, "the workflow analyzes the issue through machine vision and AI and concludes that this particular area has a pest issue." The system sends the command to a drone loaded with treatment for this specific, and potentially small, area. All without human interference.
Hillbourne, too, sees data as the key. In the future, research is pointing to signatures that can help identify specific diseases, detectable perhaps through a certain wavelength of light or the inferences provided by a neural system. For example, he noted, learning to spot the coddling moth in South Africa, the bane of growers in that region, would be an ideal first target for better data and more sophisticated analysis.
"It is not yet about replacing the agronomists," he said, "but rather making them more effective."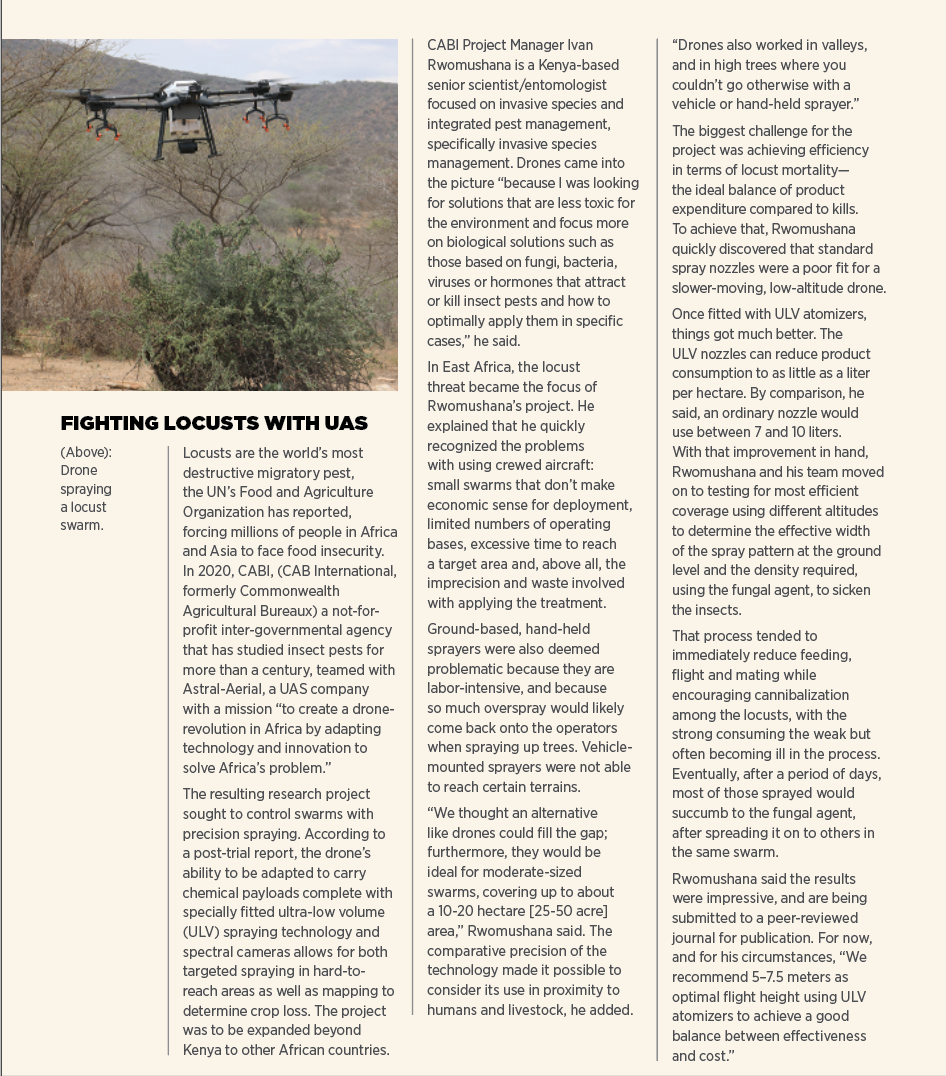 The post In Pursuit of Pests appeared first on Inside Unmanned Systems.
This story republished from https://insideunmannedsystems.com/in-pursuit-of-pests/
The post In Pursuit of Pests first appeared on Social Gov.