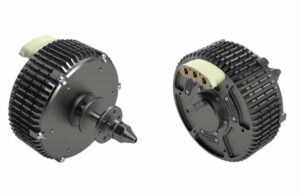 Plettenberg has released a new series of lightweight rugged inrunner BLDC motors, based on its proven NOVA product family. Designed for weight-sensitive applications such as UAVs (unmanned aerial vehicles), the new versions are significantly lighter than the regular NOVA series, while offering the same rugged design.
The first model of the new lightweight series is the NOVA 15-20 LW, which delivers up to 8 kW of peak shaft power, up to 12 Nm of peak torque and up to 300 N of peak thrust (with a 30×10″ prop). Plettenberg plans to also roll out lightweight versions of all other motors in the NOVA family.
In creating the new versions, the engineering team at Plettenberg completed a comprehensive re-design of the entire motor. The housing was revised, with lighter casing and shaft, a new cooling fin design, as well as options for rear or front mounting. In addition, lighter and more efficient bearings as well as a new integrated prop coupling system specifically for UAV applications have been added. The new motor is available with different sensor types.
The weight of the motor incl. prop coupling is 1,440 grams, which equates to a saving of up to 15% vs. the standard version.
Like the regular NOVA series, the new series can be tailored to the specific load profile of the customer. Possible changes include housing and shaft design, number of poles, winding, cooling, sensors, etc. The NOVA lightweight series comes with IP54-rated design as standard.
Plettenberg CEO Bastian Greiner commented: "Plettenberg has long been a leader in building robust drive solutions with very favorable power-to-weight ratios. With our new light-weight series we set a new standard for rugged inrunner BLDC motors. We designed this new series specifically for our customers in the uncrewed systems market, which are looking to apply the motor in harsh environments but need to save every gram of weight to maximize endurance."
Article originally published on www.unmannedsystemstechnology.com as Lightweight BLDC Motors for UAVs