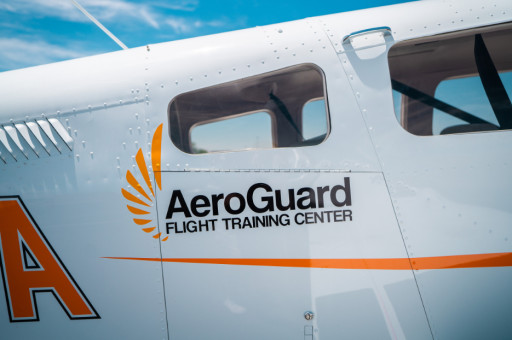 AeroGuard Flight Training Center
AeroGuard expands its flight training capacity with recent campus expansion at their Phoenix, Arizona location.
PHOENIX, June 6, 2023 (Newswire.com) - AeroGuard Flight Training Center, a leading provider of accelerated flight training programs, is pleased to announce the expansion of its operations both nationally and globally. The flight school has enhanced its footprint at its Phoenix, Arizona location by signing a deal to increase the space by 11,000 square feet - more than 30% growth in size at the location. This increase in capacity allows for enhanced training capabilities, accommodating the increasing demand for its programs.
The expansion of its facilities comes as the result of the accelerating worldwide growth experienced by AeroGuard Flight Training Center, which they expect will continue in the years to come, combined with ongoing investment in growing capacity. With a steadfast commitment to delivering exceptional and industry-leading training all over the world and producing highly-skilled pilots, AeroGuard has witnessed a positive demand for its programs in the U.S. and internationally.
Recent program growth at AeroGuard has come through its 5-year agreement with Hong Kong's leading airline, Cathay Pacific, becoming the selected flight training provider for Arizona State University, and additional international agreements in development, including a recent Memorandum of Understanding with Korea Aerospace University.
AeroGuard has also seen significant growth in its Pilot Pathway Program offered in partnership with SkyWest Airlines. Through this program, U.S. students receive professional training and a direct pathway to join SkyWest Airline's team upon successful completion of their training with a guaranteed interview to become a Flight Instructor. With this program, AeroGuard offers pilots a path to build their required 1,500-hour flight experience to become a commercial airline pilot, and enables AeroGuard to hire many highly qualified flight instructors for its training capacity, further supporting this growth.
Joel Davidson, AeroGuard Flight Training Center's CEO, stated, "We are thrilled to announce the expansion of AeroGuard's facilities at our Phoenix, AZ location. This expansion reflects our commitment to meeting the growing demands of our flight training programs and accommodating the increasing number of aspiring pilots seeking high-quality training. We are excited about the future as we continue to expand our capacity nationally and internationally, providing exceptional training opportunities worldwide."
This campus expansion will support AeroGuard's plan to triple the size of its training capacity at their Phoenix, Arizona location, in conjunction with its pipeline of Certified Flight Instructors and plans to invest in growing its current fleet of 80+ aircraft with more than 20 additional aircraft in 2023. By investing in additional planes, AeroGuard ensures that students have access to a large fleet of standardized aircraft to keep them flying and progressing through their courses quickly, improving their training experience.
AeroGuard is confident that the expansion at its Phoenix, AZ location is just the beginning of its continued growth in training capacity. The school already has three locations nationwide, two in Arizona and one near Austin, TX, and an international campus in Saudi Arabia - further solidifying its position as a premier flight training institution and expanding training operations internationally. AeroGuard expects continued growth within its training programs, supported by further facility and aircraft investments.
About AeroGuard Flight Training Center:
AeroGuard Flight Training Center is one of the U.S.'s most successful flight schools, offering accelerated commercial pilot training to candidates from all over the world. With a commitment to safety and student success, AeroGuard has a proven history of training airline-ready pilots, with over one million flight hours of training experience and graduating over 7,000 cadets.
Contact Information:
James Constable
Chief Marketing Officer
[email protected]
800-322-1526
Original Source:
AeroGuard Flight Training Center Expands Global Training Operations & Capacity With Expansion
The post AeroGuard Flight Training Center Expands Global Training Operations & Capacity With Expansion first appeared on Reliable News.