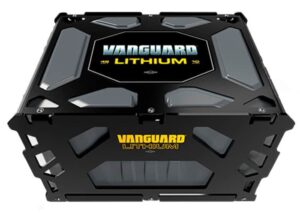 Vanguard Power has expanded its portfolio of battery solutions with the launch of its 10kWh 48V Commercial Lithium-Ion Battery Pack. The rugged battery pack is built within a robust rollcage and is designed to withstand vibration, dust, and dirt. It is ideal for a wide range of UGV (unmanned ground vehicle) and robotics applications.
The compact 48V 10kWh Vanguard Commercial Lithium-Ion Battery Pack is designed to be scalable and can be combined in parallel to provide outputs of up to 100 kWh. With two CANbus networks, it can be easily integrated into legacy systems. The unit also features an integrated battery management system and embedded technology that collects performance data to enable effective decision making.
The battery packs are designed to fit in small spaces, and to withstand everyday usage in challenging environments. Every unit is thermal cycle tested from -40 degrees Centigrade up to 80 degrees Centigrade, and features IP66-rated connectors and the ability to be cleaned with a pressure washer.
Click here to find out more about the 10kWh 48V Commercial Lithium-Ion Battery Pack, or watch the video below.
This story republished from https://www.unmannedsystemstechnology.com/2022/04/new-48v-rugged-lithium-ion-battery-pack-launched/
The post New 48V Rugged Lithium-Ion Battery Pack Launched first appeared on Social Gov.