Red Ribbon Week Merchandiser NIMCO, Inc. Unveils Official Line of Products Sporting the New 2023 Theme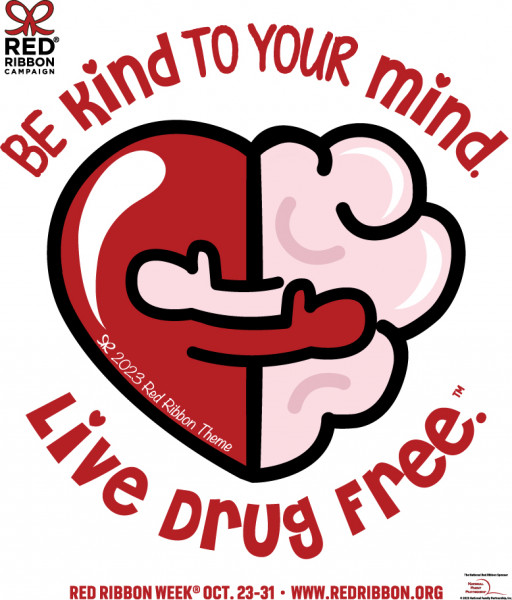 Red Ribbon Week Theme
Red Ribbon Week Theme Announcement from NIMCO
CALHOUN, Ky., February 23, 2023 (Newswire.com) - In January, the National Family Partnership (NFP) unveiled its pick for the official 2023 Red Ribbon Week theme, "Be Kind to Your Mind. Live Drug-Free." Each year, the National Family Partnership and the Drug Enforcement Administration (DEA) cosponsor the official Red Ribbon Week theme contest, inviting millions of Americans to submit a unique slogan that captures the essence and mission of the campaign. This theme will be the main focus of a new official line of Red Ribbon Week-themed products and merchandise supplied by NIMCO, Inc. - the official merchandiser and partner of the NFP.
Danielle Helm, a Youth Service Coordinator from Russell County Middle School in Russell Springs, Kentucky, submitted this year's winning Red Ribbon Week theme.
In addition to the honor of being the driving force behind this year's campaign, Danielle received $500 in official Red Ribbon Week products courtesy of NIMCO, Inc.
NIMCO is the #1 place families, children and schools can purchase Red Ribbon Week theme merchandise and products to support ongoing drug education in schools and communities around the country.
"NIMCO, Inc. is proud to be a part of this national campaign and make a difference in the lives of our youth by promoting this powerful message of living drug-free," says NIMCO spokesperson Paula Jones. "Danielle's theme is about making positive choices to be happy, healthy and kind to our minds, and we're excited to play our part in spreading her message."
The NFP organized the first Nationwide Red Ribbon campaign in response to the murder of Drug Enforcement Agent Enrique "Kiki" Camarena, who was tortured and killed in Mexico in 1985. After his murder, leaders and youth in communities around the country began wearing Red Ribbons as a symbol of their commitment to raising awareness of the destruction caused by drugs in America.
ABOUT NIMCO, INC.
NIMCO, Inc. has been the sole provider of official Red Ribbon Week merchandise for over 30 years. From posters and stickers to bracelets, T-shirts and more, NIMCO, Inc. has everything you need to show your support for the cause in 2023.
"Red Ribbon Week is an opportunity for people of all ages to come together and take a stand against drug use," said Jones. "By wearing the official merchandise and promoting the theme, we can all play a role in creating a safer and healthier community."
Red Ribbon Week takes place from Oct. 23 to 31, 2023. Whether you're a teacher, student, parent or community leader, there are many ways to get involved. NIMCO, Inc. can help you make the most of this important event.
For further media inquiries, please contact Paula Jones directly at (270)-273-5000 or [email protected].
Contact Information:
Paula Jones
Marketing
[email protected]
(270)-273-5000
Original Source:
2023 Red Ribbon Week Theme Announced