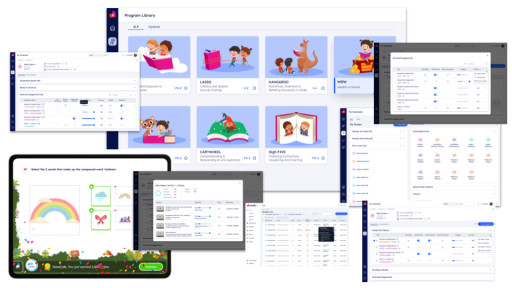 From caseload chaos to empowered SLPs
Revolutionize how you support your SLPs - and how your SLPs support your students - in the upcoming school year and beyond through the Amplio Speech-Language Innovation Grant Program.
MIDDLETOWN, Del., June 21, 2023 (Newswire.com) - Today, Amplio, an innovator in special education, announced the launch of its inaugural Speech-Language Innovation Grant program. Valued collectively at over $500,000, this initiative invites innovative special education directors and speech-language coordinators from 15 K-12 districts across the country to join Amplio in its mission to reshape the delivery of school-based special education services.
Grant recipients will receive complimentary access to the reimagined Amplio Platform for the duration of the 2023-2024 academic year. Special education leaders at grant-awarded districts will benefit from digital dashboards and reports aimed at increasing transparency, as well as from automated documentation features preventing further buildup of compliance and reimbursement logjams. Therapists will benefit from advanced technology that enables data-driven decision-making, best-practice service delivery, and automated progress monitoring - while minimizing time spent on critical but non-intervention tasks. Students will benefit from a selection of engaging, evidence-based programs designed to help them overcome speech and language challenges.
Alongside peers from 14 other districts nationwide, grant awardees will participate in an exclusive, immersive pilot experience that includes virtual and onsite professional development options, exclusive access to a collaborative learning community, support from professional mentors, and more. In doing so, participating districts will have the opportunity to impact student outcomes while shaping the future of special ed.
"With rising caseloads, a growing regulatory burden and increasingly complex compliance requirements - all against the background of a growing shortage of therapists - the situation faced by our most vulnerable students and the adults that support them is nothing less than a perfect storm," said Amplio CEO Din Heiman. "On the occasion of the launch of Amplio's reimagined special education platform, we invite school districts to join us in our quest to change the way we navigate this reality by applying for this grant."
The application window for the Speech-Language Innovation Grant opens on June 21 and closes on July 28. School districts, private school networks, and charter management organizations with a minimum enrollment of 5,000 students and at least five on-staff SLPs with elementary caseloads are invited to apply. Grants will be awarded on a rolling basis throughout the application window.
For more information about the Speech-Language Innovation Grant program and how to apply, visit ampliolearning.com/grants or email [email protected].
About Amplio
Amplio is reimagining the delivery of school-based special education, helping providers optimize therapy time and maximize their impact. Starting with the areas of speech, language, literacy, and dyslexia, Amplio blends evidence-based interventions with robust tools for efficiently managing rising caseloads and administrative tasks.
Contact Information:
Kayla Fargo
Marketing
[email protected]
(608) 577-5482
Eran Minhar
Communication Contact
[email protected]
Original Source:
Amplio Debuts Speech-Language Innovation Grant Program, Investing Over $500,000 in Transforming Special Education
The post Amplio Debuts Speech-Language Innovation Grant Program, Investing Over $500,000 in Transforming Special Education first appeared on Social Gov.