Founder and CEO Travis Collins announces retirement, Chief Operating Officer R.T. Collins appointed as new CEO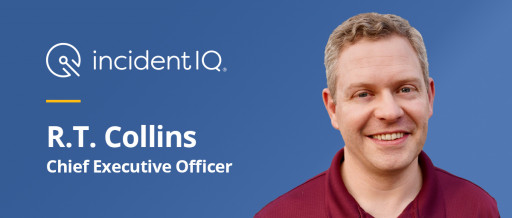 R.T. Collins
R.T. Collins announced as new CEO of Incident IQ
ATLANTA, March 22, 2023 (Newswire.com) - Incident IQ, the workflow management platform built for K-12, announced today that CEO Travis Collins will retire on March 31 and that Chief Operating Officer R.T. Collins will succeed him as Incident IQ's new CEO.
Travis Collins has been the chief executive of Incident IQ since the company's founding in August of 2016. Prior to Incident IQ, Travis was the founder and CEO of Lexicon Tech Solutions, Inc., CEO of the ChannelMax subsidiary of ScanSource, Inc., the co-founder of Black Arrow eCom, and the co-founder and CEO of AccuScan, Inc. He also served on the Rockdale County (GA) Board of Education for 12 years, completing his Board service in 2008. Travis began his professional career with NCR Corporation and is a 1979 graduate of the Georgia Institute of Technology with a B.S. in Industrial Management.
"Being a part of the Incident IQ team and working with the K-12 community to help improve support for teaching and learning has been the highlight of my professional career," Travis Collins said. "I can't wait to see the innovations and improvements that our team and our partner districts will create together in the years to come. It has been a joy and privilege to be part of this journey — not a day of it has really felt like work."
Travis will continue to serve Incident IQ as a member of the company's Board of Directors.
"I am excited to announce that Chief Operating Officer R.T. Collins has been unanimously appointed by the company's Board of Directors to become the next Chief Executive Officer of Incident IQ," continued Travis Collins. "R.T. has led our team since the earliest days of iiQ to build the company, earn the trust of the K-12 community, and to create and realize the vision for our 'workflow management platform built for K-12.' There is no better leader for Incident IQ than R.T."
R.T. Collins will officially assume his position as CEO on April 1, 2023, and will continue to serve as a member of the company's Board of Directors.
As COO, R.T. Collins has been instrumental in Incident IQ's growth from its first pilot customer to now serving more than 1,200 school districts nationwide. He similarly helped drive the transformation of Incident IQ from the initial founding members to today's high-performing team of 150 people. Prior to Incident IQ, R.T. served in the United States Air Force as an officer and military attorney, before leaving active duty to lead the K-12 services practice at Lexicon Tech Solutions.
"This moment in Incident IQ's journey is the most exciting yet, and I'm thrilled to be leading an incredible team on such an important mission," said R.T. Collins. "Our opportunity in the next several years is to fully transform how K-12 schools tackle support and operational workflows districtwide. By making these workflows easier, we can create massive efficiencies for districts and return time for what matters most: teaching and learning."
"We see tremendous demand from K-12 school districts for Incident IQ's workflow management solutions which optimize critical district support functions," said Larry Contrella, Incident IQ Board Member and General Partner at JMI Equity. "From the company's beginning, Travis invested to build an amazing team and culture that remains laser-focused on partnering with schools to accomplish this mission and to help them free up time to focus on educating students."
Contrella continued, "As COO, R.T. 's leadership has been critical to iiQ's rapid growth from the start and over the last seven years. We're thrilled that he will now be leading the company as Incident IQ's next CEO."
About Incident IQ
Incident IQ is the workflow management platform built exclusively for K-12 schools, featuring asset management, help ticketing, facilities maintenance solutions, and more. More than seven million students and teachers in over 1,200 districts rely on the Incident IQ platform to manage and deliver mission-critical services.
Incident IQ is based in Atlanta.
Contact Information:
Matt Owensby
Marketing Specialist
[email protected]
1-877-747-3073 ext. 255
Original Source:
Incident IQ Announces CEO Succession
The post Incident IQ Announces CEO Succession first appeared on Social Gov.