The new state-of-the-art facility serves San Leandro, Oakland, Alameda, and San Lorenzo by offering flexible and affordable courses in lifesaving skills.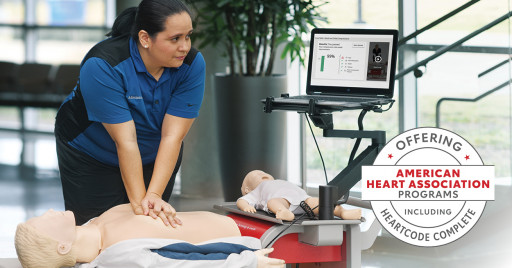 CPR Classes Near You
CPR and BLS classes in San Leandro
SAN LEANDRO, Calif., March 8, 2023 (Newswire.com) - Safety Training Seminars, an official American Heart Association© (AHA) Training Center in California, today announced the opening of its new training center in San Leandro, CA. Safety Training Seminars' newest location expands on the company's mission to offer flexible, affordable certification paths in CPR, BLS, ACLS, and PALS across California.
The San Leandro training center is located at 433 Callan Avenue, Suite 307, San Leandro, CA 94577. Its central location is ideal for serving professionals in Oakland, Alameda, San Lorenzo, and Berkeley. Like its other California locations, Safety Training Seminars' San Leandro location will offer a flexible schedule of daily classes with multiple sessions each day.
Those seeking initial or renewal certification in CPR, BLS, ACLS, and PALS can find the appropriate classes to meet their certification needs at the San Leandro office. Each of Safety Training Seminars' courses offers a flexible blend of online learning components and on-site skills testing. All courses will result in customers receiving the official American Heart Association certification card.
ACLS Heartcode courses offer both initial and renewal certification in Advanced Cardiovascular Life Support. Attendees learn the importance of continuous, high-quality CPR and how to administer it correctly. ACLS Heartcode programs are designed for professionals who respond to cardiopulmonary arrest or other cardiovascular emergencies.
CPR and First-Aid courses are ideal for a wide range of people who may respond to emergency situations, including teachers, babysitters, grandparents, supervisors, and more. During these courses, attendees learn how to administer CPR for infants, children, and adults and achieve certification post-completion. Lifesaving skills covered in the course include chokesaving, AED use, bleeding treatment, seizures, EpiPen®administration, burn treatment, and more.
BLS CPR Provider courses help attendees recognize life-threatening emergencies, properly administer chest compressions, perform ventilation, and use AEDs. Participants seeking initial or renewal certification in Basic Life Support fundamentals are invited to attend.
"The opening of our new location helps us expand access to training programs for Californians seeking to learn critical lifesaving skills by providing reasonably priced, flexible training schedules for those in and around San Leandro," said Laura Seidel, owner of Safety Training Seminars.
Safety Training Seminars has provided crucial courses for certification and lifesaving training since 1989. The woman-owned company offers certification classes in CPR, First Aid, BLS, ACLS, PALS, NRP, & EMSA Childcare. With more than 30 locations across Northern California, Safety Training Seminars is dedicated to providing affordable, flexible training in welcoming classrooms furnished with the most up-to-date training resources and equipment. To learn more about Safety Training Seminars and its locations across California, visit www.bayareacpr.org.
Contact Information:
Danielle Bell
Marketing Manager
[email protected]
415-437-1600
Original Source:
Safety Training Seminars Expands With New Office in San Leandro, CA Offering Daily CPR, BLS, ACLS, PALS, & First-Aid Certification Training