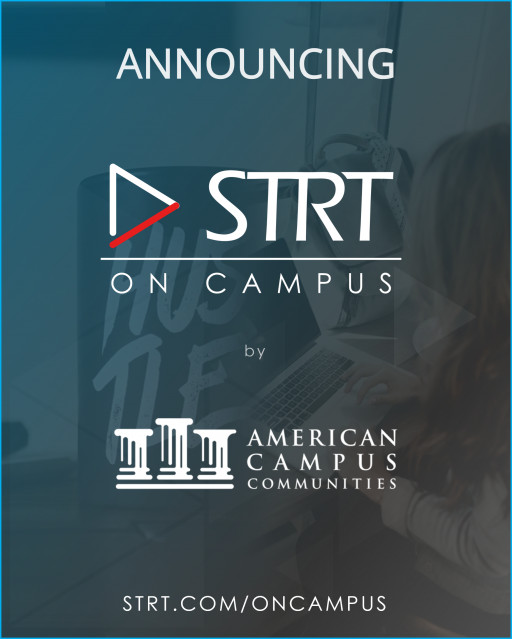 STRT On Campus by American Campus Communities
Announcing STRT On Campus. Create the Future.
SALT LAKE CITY, March 1, 2023 (Newswire.com) - STRT, a leader in the design and operation of living and creative spaces for entrepreneurs, is proud to share it is partnering with American Campus Communities, the nation's premier student housing company, to develop world-class Entrepreneurial Living Learning Communities (ELLCs). The product, STRT On Campus by American Campus Communities will bring housing accommodations, resources and programming to student entrepreneurs and creators.
STRT On Campus by American Campus Communities is an Entrepreneurial Living Learning Community product focused on the user experience of student entrepreneurs and creatives that combines student housing, workspaces, resources, mentorship and startup accelerator services into each property. The uniquely designed spaces are calibrated to foster creativity, collaboration and student success.
"We are so excited to launch the STRT On Campus product with our partners at American Campus Communities. We have a mutual passion for enabling student creators to explore and grow their potential," said STRT Co-Founder and CEO Victor Gill. "This partnership will provide the extraordinary know-how and capabilities to help universities develop, deploy, design and manage every aspect of the future of Entrepreneurial Living Learning Communities."
STRT and ACC are also proud to announce the publication of the inaugural Entrepreneurial Living Learning Community Annual Report for 2023, which highlights over 35 university ELLCs across America. The report examines the surge in demand for students interested in the entrepreneurial mindset, details each ELLC's characteristics, and dives into what makes the best ELLC programs successful.
The annual report is available at strt.com/ellc-report-2023.
The report shows that while many ELLC programs are limited to first-year students, business students or serve just a few dozen students, ELLC projects are growing in scale and availability, and implementing a holistic approach that combines purpose-built living accommodations, accelerator programming and creative/collaborative spaces.
Furthermore, students are increasingly identifying as creators and entrepreneurs, but they often lack the resources and experiences needed to pursue their ventures. ELLCs focus on teaching the creative and entrepreneurial mindset rather than a single business idea. This experiential programming enables students to think entrepreneurially over the long term so they can strategically invest their time and resources into the right ideas. STRT On Campus is excited to bring this product to market to unleash the creative potential of these enterprising students.
"ACC has always been committed to creating and nurturing diverse and healthy academic communities essential for personal growth," said Noel Brinkman, SVP P3 at ACC. "This partnership will continue to expand the residential options for students and young professionals across the country. This is another innovative means of using the proven P3 partnership model to strengthen the connection between the university and the community and the local business environment."
About STRT
STRT, Inc (pronounced start) headquartered in downtown Salt Lake City, Utah is a leader in the design and operation of world-class accommodations and experiences focused on entrepreneurs and creatives.
Create the Future.
Learn more at STRT.com
About American Campus Communities
American Campus Communities is the largest owner, manager and developer of high-quality student housing communities in the United States. The company has expertise in the design, finance, development, construction management and operational management of student housing properties. Visit www.americancampus.com.
Contact Information:
Victor Gill
STRT
[email protected]
801.210.1430
Gina Cowart
American Campus Communities
[email protected]
512.732.1000
Original Source:
STRT Announces Exclusive Partnership With American Campus Communities to Create On-Campus Student Housing for Entrepreneurs and Publishes ELLC Annual Report for 2023