Top Tech Expert and Social Media Influencer Shares Hot New Apps for Creativity and Cutting-Edge Results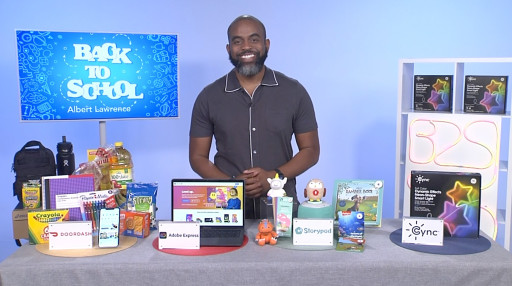 Tech Guru Albert Lawrence Offers Tips on New Apps & Technology
Technology Journalist Albert Lawrence with 2023 Hot Apps & Cool Tech
ATLANTA, August 24, 2023 (Newswire.com) - Looking for the latest apps and technology for back-to-school or for just getting back into the school, work, play routine? Here are some of the newest must-have smart technology for consumers. Albert Lawrence, tech guru and technology correspondent, shares the hottest apps and cool tech available for students or for use around the home. Learn about the latest all-inclusive design software and the newest tech trends, including innovative audio learning this year.
NEW APPS
Heading back to the classroom, Adobe Express is the fast, free, go-to solution for creating anything, from science fair posters to social studies info-graphics, flashcards and so much more. This is a free web and mobile-based app that makes it easy to create standout content from thousands of beautiful templates. Adobe Express has the power to put accessible creative tools directly in the hands of students at all levels, to help unlock imagination, inspiration, and collaboration. Adobe Express is also free for K through 12 teachers. For more information, visit www.adobe.com/express.
AUDIO INNOVATION
Storypod is an innovation to be excited about for back-to-school. Storypod is the perfect companion for kids, offering screen-free engagement, exciting learning experiences, and brain-building fun using an audio player. It fuels children's intellectual growth and creativity with a wide range of stories, music, and skill-building content for all ages, growing with children and keeping them engaged and learning from birth to six years old. Storypod is the key to a joyful and successful back-to-school journey. For more information, visit www.storypod.com.
COMBAT CHAOS
A great time-saving tool is DoorDash. They recently launched their first-ever immersive Back-to-School Hub featuring A+ selections on school supplies, lunch staples and more. DoorDash is the ultimate all-in-one tool to combat the chaos of Back-to-School and help parents and students stay organized and prepared for the entire school year. Get up to 30% off from your favorite retailers like Staples, Dick's Sporting Goods, and ALDI, delivered right to the doorstep in under an hour on average. For more information, visit www.doordash.com
STUDY SANCTUARY
Create the perfect environment for studying, work or play with Cync Dynamic Effects Neon-Shape Lights. These innovative lights can bend, shape, and create unique wall art including designs and words. Plus, they feature light shows, music syncing, scheduling, and millions of colors to enhance any space, including dorm rooms, bedrooms, or study spaces. The lights are controlled by the popular Cync mobile app. Get Cync Dynamic Effects Neon-Shape Lights at Lowes.com. Easy to install and voice-controlled with Alexa and Google Assistant. For more information, visit www.gelighting.com
About TipsOnTV
TipsOnTV covers a variety of topics, including food, entertaining, personal finance, technology, travel, health, lifestyle and more.
Contact Information:
R E
[email protected]
Original Source:
Tech Expert Albert Lawrence Shares Innovative Digital Tools and New Tech Inspiration on TipsOnTV
The post Tech Expert Albert Lawrence Shares Innovative Digital Tools and New Tech Inspiration on TipsOnTV first appeared on Social Gov.