7or9 launches a collection of beautifully designed shoes that bring the ultimate comfort to quiet fashion - the Fall Collection is led by the brand-new irresistible Mary Jane shoe.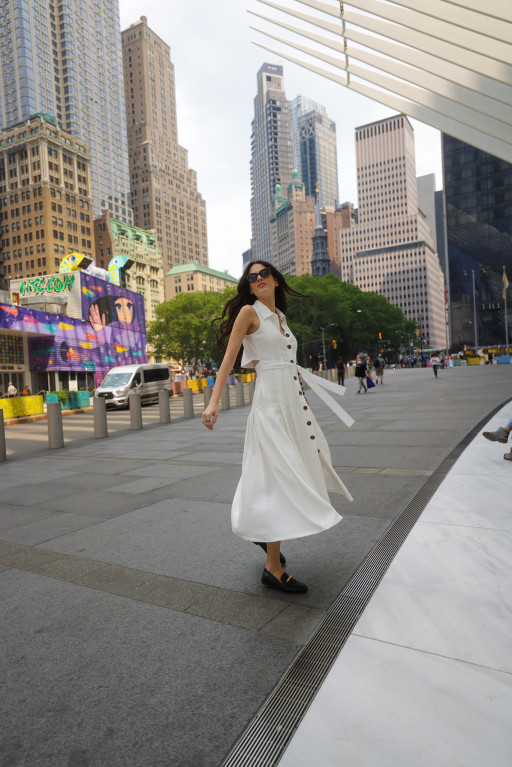 7or9 NYC Fall Collection
Modern Woman wearing 7or9 Fall Collection Quiet Fashion shoes in New York
NEW YORK, September 13, 2023 (Newswire.com) - As summer draws to a close, 7or9 officially launches the new fall 2023 collection with a global brand campaign called 'Live Your Footprint'.
The campaign is a call to action for all those women who are unique, \ refuse to be like everyone else, expressing who they are in their unique styles, walking their own paths. 7or9 is dedicated to changing fashion forever; by leveraging technology, the brand is able to bring the comfort of a sneaker into high heels while maintaining and enhancing the silhouette with the elegant lines of its signature heels.
The latest campaign features unique story arcs of modern and diverse women capturing the latest trends of Quiet Luxury and Quiet fashion. A minimalist musician wears the ultra-stylish (yet Chic!) 7or9 Black Choc Bread in the streets of New York, playing the violin across iconic (and very Instagramable) locations around town, while an elegant Parisian fashionista wears the brand cult-classic black 9-inch high heels in a city escapade a la Emily-In-Paris day-adventure, encouraging women to "Live their footprint". The brand celebrates women and femininity more than ever.
Since its inception, the brand has focused on bringing comfort to women across all their collections, under the influence of founder Deng Juan: "7or9 was born out of the necessity to change the relationship between women and pain. I think now more than ever, the modern women do not have to suffer to be beautiful," she explains. The brand uses Air-Touch foam technology that brings unparalleled comfort; compared to traditional pumps, Air-Touch foam gives the toes a softer hug. "There is a duality in our shoes. While the shoes and heels have the usual expected stylish and uncompromising lines, it also has sweet, soft, and loving fabrics that represent the different facets of the modern woman. We can be both elegant, strong, and comfortable!"
Other classic models include the brand best-seller and iconic tried-and-true Creamy Bun, the Instagram most requested Plumbago 2.0 sandals seen worn by fashion influencers from NYC to Paris and London. The TikTok favorite Cloud 4.0 model, which might just be the winning shoe of the season and is currently the most desired shoe from the brand's collection.
Exclusively available on the brand website and social media channels, get your hands on this year's fashion sensation.
About 7or9
Boasting the country's fastest-growing luxury shoe brand, 7or9 is dedicated to leveraging technology to bring the ultimate comfort to women with stylish and elegant collections of shoes from Flats to heels. 7or9 is available across North America, Europe, and Asia. For more information, please visit 7or9 online at https://7or9.com
Contact Information:
Kate Mucic
Press Relations
[email protected]
Original Source:
7or9 'Live Your Footprint' 2023 Celebration of Women for the US Debut of China's Leading Quiet Luxury Brand
The post 7or9 'Live Your Footprint' 2023 Celebration of Women for the US Debut of China's Leading Quiet Luxury Brand first appeared on RSVTV news.