Legacy PAC founding partners Angie Wong, Jared Craig, Donna Fitzgerald and Stan Fitzgerald host high-profile kick off event in Washington, DC.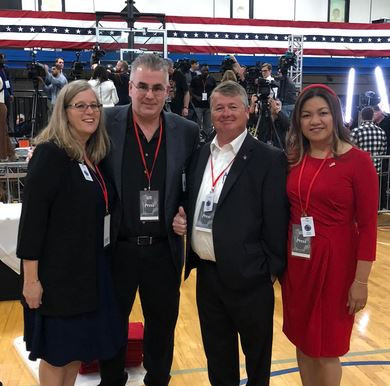 Legacy PAC founding partners
Donna Fitzgerald, Stan Fitzgerald, Jared Craig, and Angie Wong
WASHINGTON, March 3, 2023 (Newswire.com) - David Brody, with CBN, was MC for the Legacy PAC kickoff event last evening at the prestigious University Club in DC. Brody referred to the event as "Star-Studded" on his social media. The Political Action Committee founders, President Angie Wong with Partners Jared Craig, Donna and Stan Fitzgerald, packed the venue with guests from across the country and media from numerous outlets. Legacy PAC is partnered with Veterans for America First AKA Veterans for Trump.
Congressmen Byron Donalds and Mark Alford headlined the event. Kimberly Klacik, Kristina Karamo , Sebastian Gorka and Chris Kohls were featured speakers. Former ICE Director and Veterans For Trump rep Tom Homan closed the event for the PAC whose founders are also with the Veterans for Trump organization (VFAF.ORG). Trump fundraiser Martha Boneta Fain introduced Homan to the crowd. Jenna Ellis, former Trump legal team, was in attendance. CPAC performer Hadas Levy sang at the event. Michael Hopkins, President Trump's photographer, covered the event for the PAC.
Candidates and Legislatures from across the country were in attendance, including Senator Ed "Ed The Trucker" Durr - NJ, Chris Brown - MS State Legislature, and Congressional candidate Sandy Smith from NC, who was Trump endorsed last cycle.
"We are so grateful that people from all over the country flew in to attend our event," said Angie Wong, PAC President.
"We are honored to announce Dr. Kelli Ward will be joining our Legacy PAC family; she was traveling or would have attended the kick off event," said Stan Fitzgerald, PAC founding partner.
"We had over ten Front Row Joe's attend; it was like a mini-Trump rally," said Jared Craig, PAC founding partner.
Legacy PAC's website, https://www.legacy-pac.org, states: "Legacy PAC is here to hold the line and continue President Trump's legacy with the next generation of Conservative leaders"
Contact Information:
Stan Fitzgerald
Chief Political Advisor for VFAF
[email protected]
Original Source:
David Brody Acts as Master of Ceremonies for the Legacy PAC Kick Off Event in Washington, DC.