Italian restaurant group Rosebud Restaurants expands beyond Chicagoland with the grand opening of its 10th location, Mia Rosebud, in Boca Raton, Florida, this fall.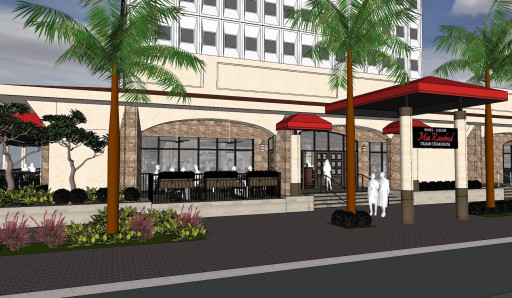 Exterior Rendering
Entrance to Mia Rosebud
BOCA RATON, Fla., August 17, 2023 (Newswire.com) - The esteemed Rosebud Restaurant Group, a beloved name in the Chicagoland area, is thrilled to announce the opening of its 10th restaurant, and its inaugural out-of-state establishment, Mia Rosebud, in Boca Raton, Florida, this upcoming fall.
Founded by the legendary restaurateur Alex Dana in 1976, the Rosebud Restaurant Group has cultivated a devoted following over the years. The upcoming launch of Mia Rosebud in Boca Raton marks a momentous achievement as the restaurant group's 10th culinary destination.
The all-new Mia Rosebud is ideally situated at 150 E Palmetto Park Rd in Boca Raton, an optimal locale for both locals and visitors.
Rosebud Restaurants have long been synonymous with classic Italian cuisine and generous portions, captivating the palates of food enthusiasts for nearly five decades. The brand has established a well-earned reputation for serving authentic, century-old family recipes. Rooted in its rich heritage and steadfast commitment to culinary excellence, Mia Rosebud by Rosebud Restaurants is poised to emerge as a premier destination for aficionados of Italian cuisine in Boca Raton. The restaurant's distinctive ambiance, complemented by its spacious interior and inviting exterior terrace, provides an idyllic backdrop for get-togethers, celebratory events, and romantic evenings.
Mia Rosebud features an open-kitchen design encompassing an expansive 7,700 square feet of indoor space. Within this space, the interior dining area, accommodating 164 guests, spans 4,000 square feet and encompasses an intimate private dining room for up to 30 guests, suitable for special occasions and gatherings.
The indoor bar seamlessly transitions to a welcoming exterior terrace along Palmetto Park Rd, offering seating for 30 patrons. An exquisite outdoor terrace further accommodates 32 guests, providing an alfresco dining experience that harmonizes perfectly with the Florida climate. Additionally, an exterior bar with seating for 12 will afford patrons the opportunity to indulge in meticulously crafted cocktails while immersing themselves in the vibrant ambiance.
The team at Rosebud Restaurants is eagerly anticipating the opportunity to welcome both longtime patrons and newcomers to experience the essence of Italian hospitality at Mia Rosebud. Whether savoring timeless classics or indulging in innovative creations, guests can look forward to an unforgettable journey through the heart and soul of Italian culinary tradition.
For further details about Mia Rosebud and the latest updates, please visit the official website at rosebudrestaurants.com or follow the restaurant on social media @rosebudrestaurants and @rosebudbocaraton.
###

About Rosebud Restaurant Group
Founded in 1976 by Alex Dana, the Rosebud Restaurant Group has established itself as a celebrated name within the Chicagoland area. Infused with a passion for authentic Italian recipes and warm hospitality, Rosebud Restaurants have flourished with nine locations across Chicagoland and look forward to offering an unparalleled dining experience in Boca Raton with the highly anticipated arrival of Mia Rosebud.
Contact Information:
Kate Ahern
Director of Marketing
[email protected]
773-325-9700
Original Source:
Rosebud Restaurant Group Announces First Out-of-State Location in Boca Raton, Florida
The post Rosebud Restaurant Group Announces First Out-of-State Location in Boca Raton, Florida first appeared on Reliable News.